Completing Commercial Invoices
When shipping Internationally, some countries require Commercial Invoices, to comply with worldwide customs regulations. To ensure your shipment seamlessly moves through the network without any delays, you must complete a Commercial Invoice correctly. One of the reasons why it is so important is because customs authorities need this to assess possible taxes and duties. To ensure Commercial Invoices are completed correctly, we have created a infographic and video to explain the process. The Commercial Invoice is to be completed, printed, signed and handed to the driver with the consignment.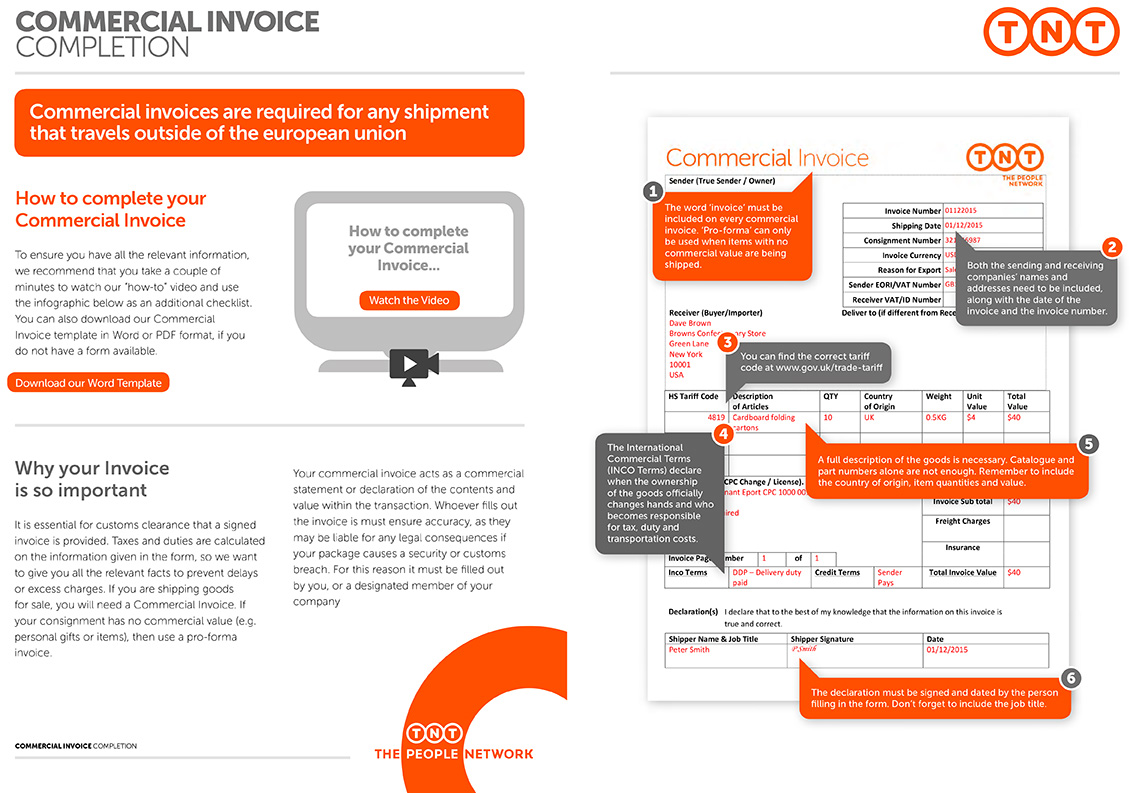 Download Commercial Invoice template
The Commercial Invoice should clearly include:
Sender's name, address and contact details.
Receiver's name and address.
Date of invoice (shipping date).
Full description of each item of goods supplied to enable correct Customs Tariff Classification (catalogue and part numbers are not sufficient to describe the goods).
Special note: If your parcel contains multiple items, please list all items on a separate sheet and attach it to the invoice. To avoid delays ensure the inventory is typewritten, detailed and accurate.
VAT number: Enter the sender's VAT number if applicable.
Country of origin (where manufactured) of each type of goods being supplied.
HS Tariff code. Please include this information (if known) also referred to as "commodity code". In the absence of a Tariff being provided, a full and accurate description of goods MUST be supplied.
Quantity of each item of goods supplied.
Clearly state currency in which the value of goods is expressed.
Total value of all goods covered by the invoice.
Gross weight (including packaging), net weight (excluding packaging) and number of items.
The following statement must appear "I declare all of the information to be true to the best of my knowledge".
The invoice must be signed and dated. Please note that 4 copies of the Commercial Invoice should be printed, completed, signed and dated prior to our driver picking up the parcel.
To help you complete your Commercial Invoice correctly we have a TNT video guide below. Ensuring that you complete a commercial invoice correctly will avoid:
Delayed Delivery: your shipment(s) may not be delivered on time as it could be held up going through the customs process.
Additional Work: you will have to arrange the correct documentation in line with customs legislation; taking you away from your core business activities.
Extra Charges: you are likely to incur additional charges to complete the delivery of your shipment.
Poor Customer Experience: if your shipment is delayed then this could damage your reputation with your customers and lead to loss of business.
Download Commercial Invoice template